Dish Dances (2021)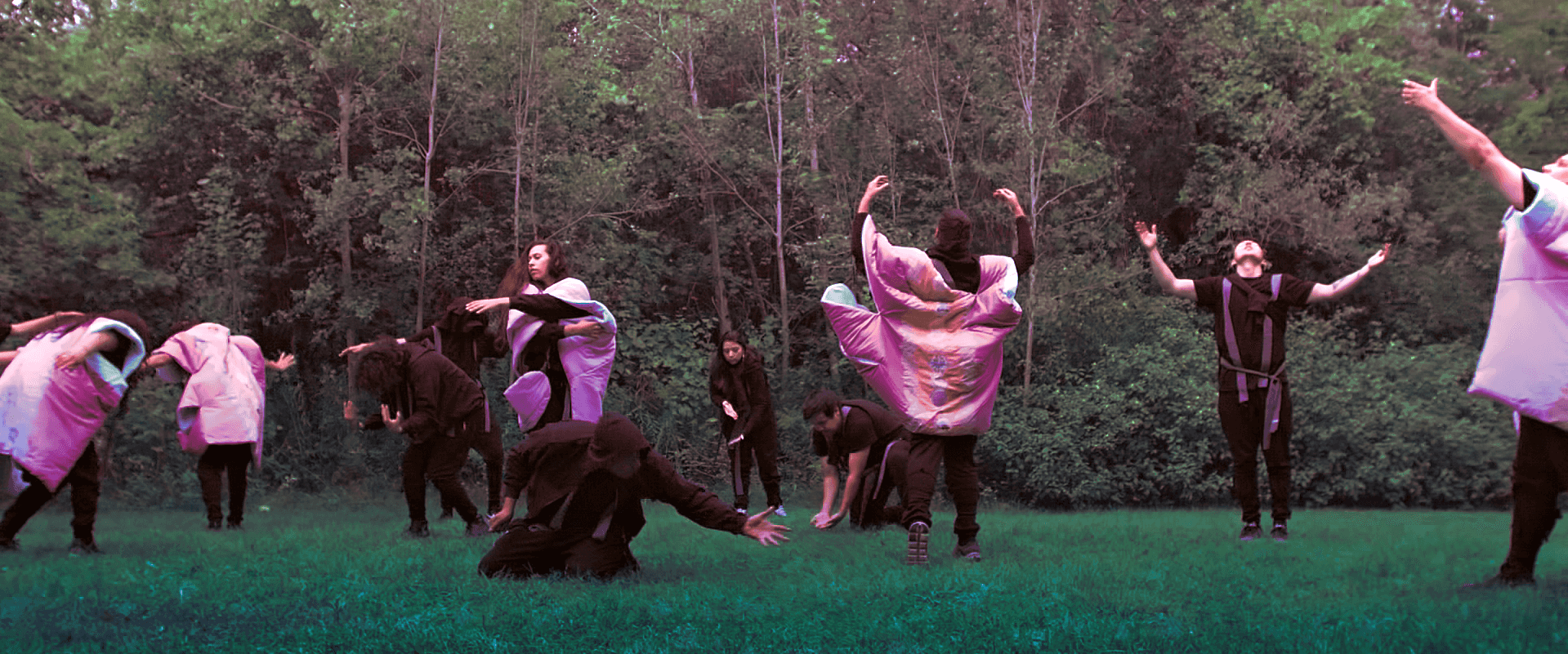 For the 2022 Toronto Biennial of Art, Ange and Jumblies Theatre & Arts created DISH DANCES, which expands on ideas about the governance and sustainability of the land through movement and visuals. Filmed at Camp Naivelt on the Credit River, the project was presented as a video installation at Fort York from March 26 – June 9, 2022.
DISH DANCES reanimates the Credit River, a place of council watching over the Dish with One Spoon agreement. This time-honoured concept is central to the relationship between Indigenous Nations in the Great Lakes region: Take only what's required and ensure that all living things can sustain their lives. The inevitability of greed and conflict signal a call to conversation about responsibility to land and its preservation for future generations.
Direction: Ange Loft
Produced with Jumblies Theatre + Arts
Vocals: Amplified Opera
Original Music: Melody McKiver with Rosary Spence for Talking Treaties
Cinematographer: Alaska B
DISH DANCES was made in collaboration with a team of artists, including choreographers Aria Evans, Animikiikwe Couchie and Lilia Leon, composer Melody McKiver's re-interpretation of original music by Rosary Spence, with vocal performance featuring Amplified Opera Co-Founders Asitha Tennekoon, Teiya Kasahara and Marion Newman.
DISH DANCES was performed by an Indigenous cast, including familiar faces from prior Talking Treaties creations working alongside students from the Centre for Indigenous Theatre: Pesch Nepoose, Jesse Wabegijig, Jamie Oshkabewisens, Iehente Foote, Kean Buffalo, Kehew Buffalo, Francis Gladue, Brandon McDonald, Pearl Pheasent-Dumont, Sonny Russell, River Waterhen, Aria Evans, Animikiikwe Couchie and Lilia Leon.
DISH DANCES (2022) was commissioned by the Toronto Biennial of Art in partnership with Fort York National Historic Site, Toronto History Museums and made possible with the support of ArtworxTO, the Ontario Council for the Arts, and the Women Leading Initiative.